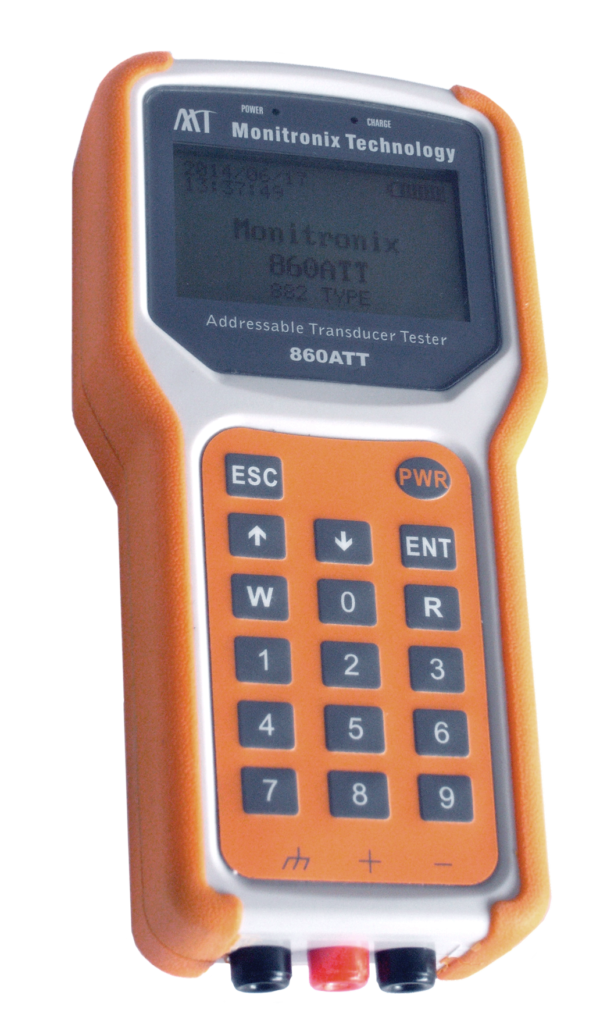 Hand-held Tester Device MT860ATT
The MT860ATT is an advanced hand-held portable addressable transducer tester, designed to test and calibrate a variety of addressable pressure and flow transducers, and resistance-type pressure and flow transducers.  It can test the transducers before they are installed, will also monitor these transducers while they are in the field to simplify the maintenance for the pressurized cable network.
High Accurate and high resolution

 

128*64 LCD display, 4*4 keyboard

 

Test the addressable transducers up to 128

 

Test resistance-type transducer

 

Calibrate, address and test transducers before installation

Measure cable resistance and capacitance

 

Measure transducer operation and quiescent current, max and min current readings

Average scanning time of 3 seconds per transducer

 

Searching for the address of transducers on bus (multi-mode search)

 

Data report function

 

Operation password

 

Extensive diagnostic facilities

 

Real clock to display year, month and day

 

Turns off automatically

 

Supervisory rechargeable battery

 

Lightning protection

 

Audio Beeper to give audio warnings

 
Air Pressure 
Manifolds

4 Inputs X 4 Outputs
The dry air distribution tank is designed to evenly supply air to several flow panels or cables.  The manifolds also allows for even air dryer consumption, if one air dryer stops working, all devices still get air from the other dryers connected to the manifold.
All manifold inputs and outputs have check valses that allow air to flow only in one direction, reducing wasting dry air.

  

The manifolds and easy to install.

 
4 Inputs with individual shutoff valves, of any required size.

4 Outputs of any required size.

Pressure gauge 0 to 30 psi.

  

Max. pressure for tank 30 psi

Can be installed on tracks or walls

Inputs and outputs can be fitted with check valves

Solid construction, wheatear proof

Air valve to measure tank air pressure

Can connect several dryers and/or nitrogen tanks